September 3, 2012
Combat Clutter in the Bathroom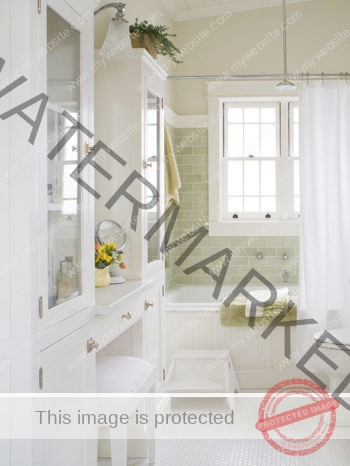 Combat Clutter in the Bathroom
The bathroom is host to countless necessary and, let's face it, not-so-necessary accoutrements. But morning and evening rituals done in a clutter-free environment will have a calming effect – the best way to start and end your day. These ideas can help you turn your bathroom into a haven.
Combat Clutter in the Bathroom
We all want easy access to the things we use daily, but that doesn't mean everything has to be in plain sight.
Organize your bathroom in easy five steps:
Toss anything dusty (a good sign you haven't used it in a while!) or rusty (think old scissors, tweezers, razors); old toothbrushes (replace yours every three months); and expired products.
Make more space. A vertical tub-to-ceiling spring tension shower caddy will provide four or five more levels of shelf space for products. An over-the-toilet étagère creates instant extra storage space for towels and extra paper goods. Hang an over-the-door multi-hook coat rack to multiply hanging space for towels.
Assemble activity baskets for hair care, nail care, first aid, pet grooming supplies and travel so that you can grab the whole basket for everything you need.
Maximize the medicine cabinet. Acrylic risers provide extra shelf space and put unused vertical space to work. Stick a magnetic strip on the inside of the medicine cabinet door (between shelves) and hang metal objects such as tweezers, nail clippers and spare shaving blades. Store lip pencils and lipsticks in clear plastic drawer organizers on medicine cabinet shelves so you can pull the whole container down at once.
Repurpose a shower curtain ring to hold ponytail holders in one place. Attach barrettes and clips to a wide piece of ribbon.
Be Sociable, Share! Boca Raton Carvalhos Cleaning.