February 3, 2020
One Call to Carvalho's Cleaning Does It All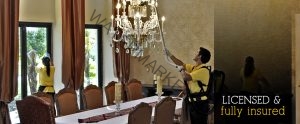 Whether you need weekly cleaning to your home, pre- and post-visit cleaning to a vacation rental property, or commercial cleaning services, all you need to do is call Carvalho's Cleaning, South Florida's complete professional cleaning company.
Our teams of expert cleaners specialize in both residential and commercial cleaning. So regardless of the size or scope of your project, we have the experience, abilities, and knowledge to provide you with the type of cleaning services that will exceed your expectations.
Satisfied Customers
No wonder Carvalho's Cleaning is one of the fastest-growing cleaning companies in the region. Just ask any of the dozens of satisfied clients about the quality of our service and you will find the answer.
Our cleaning is thorough, professional, and affordable. Plus, we take pride in providing our clients with both outstanding customer service and unrivaled reliability. And all of that is on top of the technical skills we bring to every cleaning project we take on.
Big and Little Jobs Accepted
No job is too big or too little. We can clean your home weekly, bi-weekly, or even monthly if you need it. Or we can clean your business after hours on a nightly basis.
We also clean rental properties. If you have visitors arriving at your vacation rental, simply let us know and we can dispatch a clean team to prepare your home so that it is spotless. Then, after they leave our team of expert cleaners can return and clean your vacation property all over again.
Or if you have Florida home that you only use occasionally or seasonally, we can clean your home prior to your arrival and keep it clean the whole time you are away.
There's nobody better than Carvalho's Cleaning for residential, commercial, vacation property, or any other type of cleaning in South Florida. Find out for yourself. Give us a call and receive a free consultation. You won't be disappointed!