December 15, 2019
Pre and Post Holiday Cleaning Available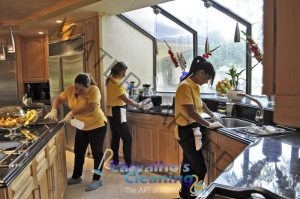 If you are hosting a holiday party, there are a lot of details to worry about. But cleaning your home before or after the party doesn't have to be one of them.
The professional cleaning teams at Carvalho's Cleaning are available for pre- and post-party cleaning so your home can look it's best when your guests arrive and look just as good the day after the big event.
Pre-Holiday Cleaning
Let's face it: Hosting holiday parties are about showing off your home, at least a little bit. You are going to the time, expense, and trouble of hosting your family and friends for the holidays because you have the space to do it. And you want to make sure people appreciate it.
So it's critical that when your guests arrive, your home looks its absolute best. But with all the other things to worry about during the holiday season — the menu, the decorations, the gift-giving, and more — the last thing on your to-do list is to spend hours or even days giving your home a deep cleaning.
Now you can take housecleaning off your party planning list completely because the cleaning experts at Carvalho's Cleaning have you covered. Simply call us with the time and date of your party and we will take care of making your home looks absolutely pristine for when your party guests arrive.
The Morning After
One of the worst things about hosting a holiday party is the next day. This is especially true if you and your guests had the time of your lives.
Waking up to a home devastated by a big blowout party can be depressing. But it doesn't have to last. Just schedule Carvalho's Cleaning to thoroughly clean your home and you can forget about the post-party letdown and just keep the good times going throughout the New Year!